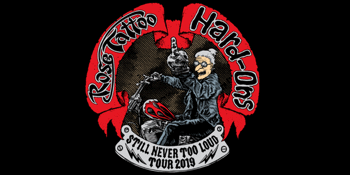 The Coolangatta Hotel presents
Rose Tattoo & Hard-Ons 'Still Never Too Loud' Tour
Still Never Too Loud
Coolangatta Hotel (Coolangatta, Gold Coast, QLD)
Saturday, 27 April 2019 8:00 pm
Rose Tattoo, the true rock and roll outlaws and first and last gang in town rumbled into existence in late 1976 with a New Year's Eve debut at Sydney's legendary Bondi Lifesaver.
The 2019 outfit features early AC/DC bassist, Mark Evans and former Finch, Skyhooks and Angels' axeman, Bob Spencer alongside Angry, long time Tatts' slide guitarist Dai Pritchard and keep the seat warm, drummer Jackie Barnes.
THE boys are back and right now, Rose Tattoo are as good as it gets and that's no small statement.

The Hard-ons: a quartet of ageless musicians playing timeless music for no other reason than the music itself. Here they are, in their fourth decade of rampaging across the globe, with their heady hybrid blend of bubble-gum, metal, punk, psychedelia and power-pop.
For all intents and purposes this was a doomed band: a multi-racial suburban high school band that deliberately took a left hand path into oblivion and ended up touring almost thirty nations across thirty-five years, and amassing an unprecedented and never-to-be-paralleled seventeen consecutive number one releases on the Australian independent chart dating back to 1985.
The indefatigable Hard-ons present wild, loud and action-packed live shows. All but the ageist bigot would deny that they are playing better than ever in their history. The Hard-ons live, are not to be missed!